The European Volunteering Service 2 presented Pooja Singh from India, Nabulya Justine from Uganda, Dumo Khumalo from South Africa, and Peter Charles Gwivaha from November 2019 to April 2020. The main activities carried out comprised of; Running of Artcast Radio together with Veterans Voice Radio in South Africa so that listener from Bulgaria and Africa can have access to the podcasts. Not to mention translation of content taught in the three training courses to Swahili and Hindi languages which was published on the Study at home website in addition to supplementing on the myths and legend project.
The challenges faced included language barrier, a little of unfair treatment from the public toward black people, extreme coldness in the winter season, and always to remember the corona virus outbreak which limited their movement in and outside of the country; which also led to the extension of their projects for a month since all borders were closed.
The podcasts posted were accessed by people in Africa thus they got to learn more about the Bulgarian culture as different people and musicians shared their experiences in Bulgaria. The content published on study at home website was designed to also suit people all over the world; this meant that various people from various countries and organizations could learn a number of skills from home such as; Leadership,  Project Planning and Proposal Writing, dissemination of project results, Presentation and Public Speaking, the list is endless. These skills would not increase one's capacity to operate better but also foster growth and development of local organizations.
The time spend together make the relationships more strong and deep. Lock-down in the house and only with home-office work faced us with many challenges.
First our action was to start the initiative called "Talk to a stranger".
Due to Corona virus emergency people has been having a lot of panic due to different circumstance which could be because of fear, isolation, missing people or losing their beloved one to the pandemic. Our team choose do not allow this mood to obsess us, and go further – let help to other people that are in the similar situation. Meetings were in Zoom, each evening.

Because in this team we have many talented people and some musical instruments and equipment, available around, we recorded couple of tunes and even make 3 concerts. The first one was in January for elderly people in governmental institution.
And guest how stressful all of the volunteers were to meet these elderly people! The next 2 concerts were more better. The timing, the list of tunes, and with more rehearsals before go to the stage, make the results of this International collaboration more successful and significant.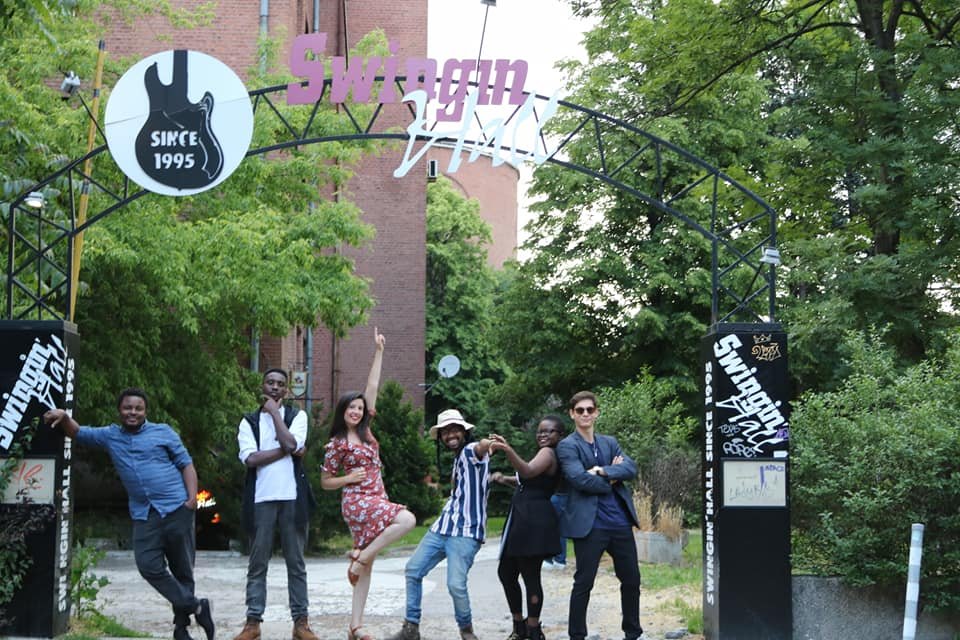 This collaboration inspired them to plan together other projects for all our organizations. And first project proposals that they initiated and prepared were in UNESCO call for proposal and MAMA CASH found. Now, we are waiting the results.
Advertising and visibility were the main tasks of these team. With pleasure we can say that Dumo from South Africa develop skills and now is amazing good in the radio studio: listen him here. Peter started his personal video rubric: Chit Chat and Snena from our first EVS team, inspired from them, started her video channel: here.
Subscribe for their personal channels. The treasures will come Lear after Lear.
More about the Hosting organisation Open Space Foundation here.