Life in Uganda
Uganda is a country rich in resources and diversity. Not only there are 54 languages and hundreds of tribes but the country is hosting thousands of refugees from Sudan and Congo.
The food is simple but so delicious and organic (my body was happy for once). My favorite were rolex and samosa. It was there I drank the sweetest most amazing juice.
The local means of transportation are mottos and taxis. I learned to drive a motto and amazed the locals (white boda-boda lady who would ever imagine).
East Africans would address you as muzungu (which means white). Walking the streets you could expect to hear this 10x per day "Hey, muzungu I wanna marry you", "Hey, muzungu do you want to be friends?". Fun fact (quite easy to foresee) prices are determined by the color of your skin but also by means of transportation you are using or which part of the city you are coming from or the clothes you are wearing (this applies for natives). That being said everything is negotiable and nothing is fixed.
Time is a relative concept. You show up when you show up, when it rains you don't show up. That's something that took time for me to adapt to. Another thing I would consider a cultural shock is locals being so straightforward (I'm straightforward but that was another level) and the use of English. For example they would say "you have a funny face" or "Krista, it seems you gained some weight (with this food was impossible not to)" or "You look a bit heavy" or "This girl so stubborn eh (which means funny, not stubborn as we know it)".
I spend substantial time in various Ugandan hospitals accompanying my friends. Generally in terms of health Uganda is pretty safe and they have great hospitals. I did not get sick at all for the 4 months I was there only bitten by mosquitoes A LOT (take repellent, drink your pills everything will be good)!
The Hope center
Is a lively place where people from all backgrounds are welcome to play, learn, be listened to, counseled and ultimately find HOPE! It was there I found the craziest girls (tuli mulalu) and the most funny/loving children! It was there I learned more about Ugandan culture, games, dances and beat Jackie (my beloved soul sister) at matatu (very popular card game in Uganda). It was the place where we were meeting with teacher Hope and the rest of the team to plan the month, quarter and different workshops. It was the place where every Saturday the center was turning into children's paradise. With various games, followed by brunch (which we were preparing) and educational workshops. The Hope center is helping children gain self-awareness, realize their potential and make them feel valued which is all they needed.
Thus, in the course of two months I've developed the Non – Violence project. Which aimed to help people deal with the segregation they were creating and their inner anger which was then reflected on children. The project was a combination of workshops and interactive games in the course of one week followed by one week of reflection.
I've designed it for both adults and youngsters but targeted mainly teachers with the idea for a long run benefits. It required a lot of reading, consultancy with experts both on the topic and on the culture.
A prototype was tested with stuff from my organization and friends. After working on the received feedback I've launched the project. It was a great success and I could see people rethinking their way of communication. The feedback I received from CNU was very constructive and useful. The project is still on going and more and more teachers are being trained.
Krista Nedialkova and Ahinora Vatashka from Open Space Foundation Bulgaria conducted their European Volunteering Service at Childlife Network Uganda from May to September 2019.
The volunteers carried out activities together as well as individually which included;
Working with Children and Youth at the Hope Center mainly on the weekends. Supporting CNU staff during school workshops in Kampala and rural schools and doing any other activities as requested by management.
Krista had a task of developing a training material about non violence communication and Conducting a training of trainers about non violence communication. Teaching Spanish dance to Children at good Will preparatory for their parent's visitation day. She also had a task of teaching Spanish language and dance to the Hope Center Staff and Volunteers.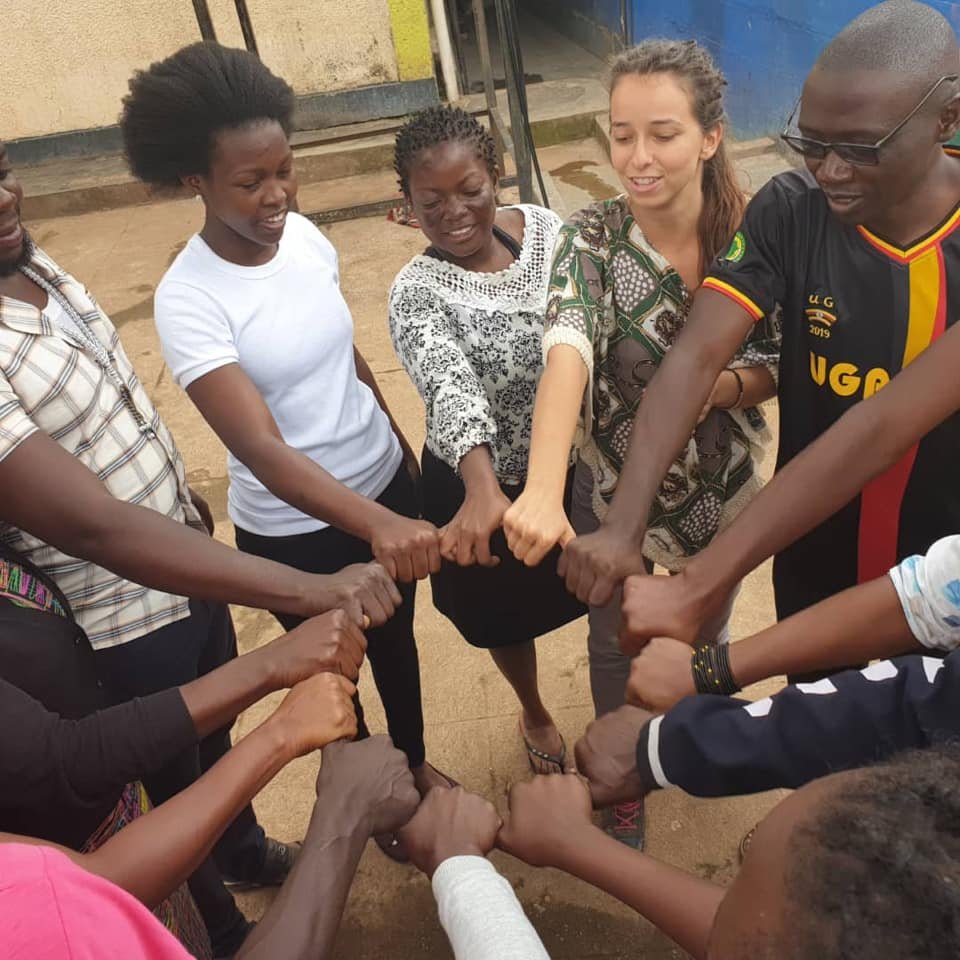 Ahinora had a task of making paintings on the Hope Centre walls as well as teaching kindergarten kids art.
The challenges faced by the Volunteers were but not limited to;
Cultural shock, they had a challenge embracing the communal culture of Ugandans. Since they were used to doing things alone not so much in a community setting,
Time management was also part of the cultural shock since hope center staff and volunteers would come some late to events at times.
The first week of their arrival, one of the volunteers was a victim of theft in a taxi (public transport) as a nearby passenger snatched 20,000UGX (5.3USD) from her wallet, this was so scary to her but she learnt to take caution of her wallet/handbag while on the move.
Being referred to as "Muzungu" by the natives made them feel not part of the community.
One of the volunteers often feel sick due to changes in environment and food.
The activities were carried out effectively and successfully, the benefit of their activities to the organization and community being;
The non-violence training content developed by Krista is part of the CNU training curriculum shared youths, parents and teachers in Kampala and rural schools with whom CNU works with, which is statistically over 3000 people.
The Spanish dance is taught during the youth mentorship week thus it boosted the program and gives the youth a cooperate dance skill.
The Kids at the Kindergarten Ahinora was teaching improved in drawing and shading, they are far better. And the Hope Center walls are more child friendly as a result of her paintings.
The children and youths they interacted with during the stay in Uganda, had an experience of interacting with a white person; some of the kids feared them at their arrival but as time went on, they became friendly. There was an exchange of experiences and values between Krista, Ahinora and youths at the Hope Center which positively impacted their lives.
Krista and Ahinora had a different experience of life than the one they were used too for example, different transport means, different partying systems, freedom of movement and interaction, various foods and cultures. It was very interesting and an eye opener to Ahinora who later decided to go back to Uganda to stay.
See more about Hope Center